I'm working hard keeping Langport mobile
Hi there I'm Gillian Gibson and I see it as my job to keep the people of Langport on their feet, pain-free and mobile so they can stay active and make the most of life in our beautiful part of the country.
I know how hard it can be when foot pain stops you from being mobile and keeps you from doing the things you love.
I see it every day in my clinic. People unable to walk their dog, take part in their fitness classes, run around with their grandchildren, or even just get to the shops because of their foot pain.
As a podiatrist and nurse who cares about people and their wellbeing I get so much satisfaction from getting people back on their feet and keeping them there, so that they can do the things they love and need to do every day.
Nothing shocks me anymore
No matter what you are suffering with I can almost guarantee I've seen it before, that it won't shock me and that there is a solution for you.
Now I'm good but I don't always have the answer, so if I don't have the solution, I know a lot of other professionals in the Langport area so I can direct you quickly to someone else locally who will.
So I don't want you to be embarrassed and I don't want you to be suffering in silence at home. That is just not necessary.
My real passion is skin
I have been "in touch" with it all my working life and it continues to fascinate me. It's the largest organ in the body and from it's outside, to what it covers and holds together on the inside, I'm always trying to help patients find a solution to skin issues.
Throughout my career I've always aimed for the best possible outcome for the patient. Several years ago I was given an opportunity to study at Cornell University, USA. I returned with ideas that ultimately led to me starting my own home care business, caring for people in their own homes. Through that work, I discovered a real need for good foot health treatment, so I studied at Plymouth University for my Podiatry degree.
In the clinic, I love working together with patients to create care plans that are going to meet each patient's needs as well as being effective. That way I know there is a better chance that you'll do what you need to do to help yourself and the treatment has more chance of being successful.
Happy patients, happy Gillian!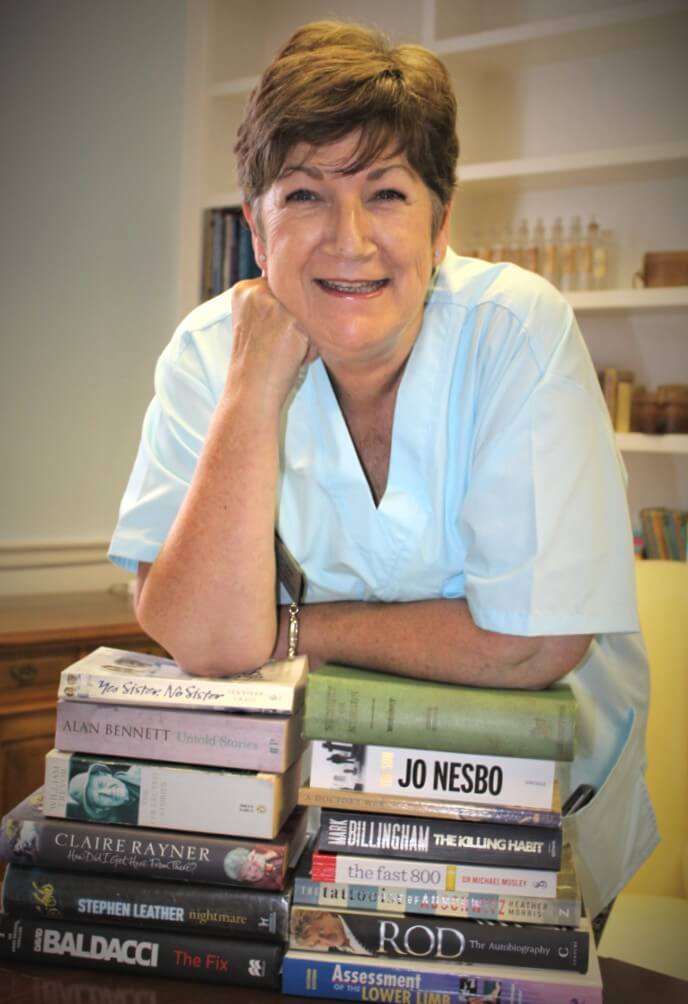 When I'm not at work
My travels have taken me to many places and I will always find the opportunity to explore new places and different cultures both overseas and in our lovely United Kingdom.
These visits often give me the opportunity to try different foods. When I return home I love to gather family and friends to join in some home-cooked cuisine.
I also love to read and I can easily lose myself in anything from the latest thriller novel to new treatments for skin disease. I often receive recommendations from patients so the wonderful world of books is kept alive.
So if you decide to book an appointment to see me in my Langport clinic be sure to have a recommendation or two up your sleeve for a travel destination or a good read.
Just Click the Pink Button to Get in Touch